It is not news that governments give out very generous pension plans. Such generosity was originally considered a trade-off for relatively low wages compared to non-government workers. That may have been a nice gesture then, but there are consequences now.
To pay the pensions, governments put aside a certain amount of money each year to be invested in a pension fund for the benefit of retirees. The amount put aside reflects some assumptions about investment returns. When their portfolio earns smaller returns, there is a deficit in fund.
Republican politicians rightly complain about our national debt approaching $20 trillion. But, we need to pay more attention to a different debt of another $2 trillion, which is the amount of money that state and local governments need to immediately add to their pension funds. Poor investment returns and low interest rates are the cause. This means there is $2 trillion less to spend on roads, schools, colleges, health, etc.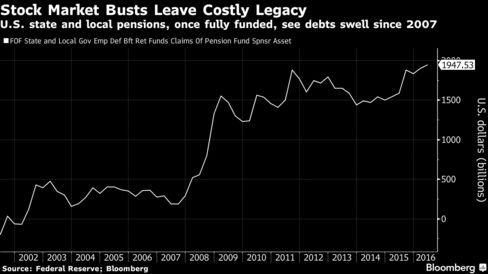 Of course, one way to avoid such spending cuts is to cut the pensions. There is actually some talk about this in Dallas. Seeking to retire before these cuts happen, the number of police officers and firefighters retiring this year is
twice
as many as last year.
Let me say that again . . . "cut the pensions."
As a retiree receiving a pension check each month myself, I would hate to see it reduced, but it might be necessary. Should retirees like myself require spending cuts in roads, schools, colleges, and health just to keep receiving our full pensions? Or, should we raise taxes on "job creators?" Or, should we cut the pensions? Or, should we stick our heads-in-the-sand?"